Dorothy Mary Crowfoot Hodgkin O.M.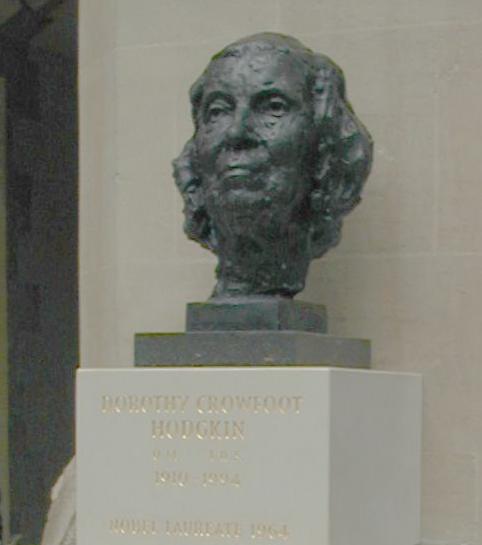 Bronze bust in the University Museum, Oxford near where Dorothy worked
First seen during the Hodgkin memorial Lecture given by Elspeth Garman, 9 March 2010
Born Dorothy Crowfoot 12 May 1910
in Cairo, Egypt, then a British Protectorate, where her father worked in the Education Service and did some archaeological digging. Her mother was an accomplished botanist and plant illustrator
1921 went to Sir John Leman School, Beccles Suffolk near her father's family home.
1928 Somerville College Oxford
D.Phil Cambridge supervisor JD.Bernal
1933 awarded a research Fellow of Somerville College Oxford
1937 married Thomas Hodgkin, they had 3 children
1947 20th March FRS
1960 - 1970 appointed Royal Society's Wolfson Research Professor
1964 First woman scientist awarded Nobel prize for determining the structure of insulin, penicillin and vitamin B12
1965 Awarded order of merit, O.M.
1970 - 1988 Chancellor of Bristol University
1976 President of Pugwash 1976 - 1980
1991 The BCA arranged a Dorothy Hodgkin triennial lecture, she presented the 1st prize to the lecturer Durward Cruicshank in the year of her 80th birthday
died at home in Oxfordshire 29 July 1994
1995 the Royal Society set up a post doctoral fellowship scheme to be known as the 'Dorothy Hodgkin Fellowships' initially 10 fellowships were offered for 4 years.
1996 one of 5 Women of Achievement on British Postage stamps and another stamp printed to commemorate the 350th founding of the Royal Society
1999 first Dorothy Hodgkin memorial Lecture held during the Oxford International Festival for Women held annually in March. This lecture is now sponsored jointly by the Oxford International Festival for Women, AWiSE (Association of Women in Science and Engineering), Somerville College who select the speaker and finance a reception afterwards and the Oxford University Museum of Natural History who donate the lecture room and reception facilities in the Museum. Speaker at the first one 4 Mar 1999 was Louise Johnson on the topic "Dorothy Hodgkin and penicillin; 50 years from structure to present day understanding of Biosynthesis and bacterial resistance."
2001 the Royal Society of Chemistry erected a memorial plaque on the building where she worked in Oxford.
Bibliography

Collected Works of Dorothy Hodgkin (in 3 Volumes) published by the Indian Academy of Sciences, 1996 ISBN 81-7296-020-4, volume III has copies of addresses presented at her funeral and memorial service.
Dorothy Hodgkin and Linus Pauling. A tribute. Talks presented at the Montreal meeting of the ACA 25 July 1995 printed by University of California, Los Angeles, 1996
Dorothy Hodgkin: A Life biography by Georgina Ferry, reviewed in 'Crystallography News' Dec 98 has a useful bibliography.
Page last updated 28 Feb 2015